Arrested Development: Season Three review by Mike Long
When a television show is cancelled, the process is usually a swift and decisive one. New shows will air a few times and then disappear. Older shows will simply not come back the next season. (I'm differentiating cancelled shows from shows such as
Friends
or
Seinfeld
which ended a long run in a pre-planned manner.) But watching a show die a slow, painful death is another matter entirely. Such was the case with
Arrested Development
. As the show limped into it's third season, powered mostly by the devotion of its loyal fanbase, the future of the show was uncertain and as the season progressed, it became very apparent that the program was doomed. Thus, it's great that we now have
Arrested Development: Season Three
on DVD.
While the first two seasons of
Arrested Development
weren't necessarily role models for story arcs, they did have consistent plot lines which ran throughout the shows. Season 3 continues some of these plotlines, but for the most part, the jump around radically (this was probably related to the fact that the writers knew the show was being cancelled and they just wrote what they wanted to see.) While the plots are all over the place, the main themes of the show are intact. Michael Bluth (Jason Bateman) is still struggling to keep his family together, his company afloat, and his sanity in check. Michael's father, George Bluth (Jeffrey Tambor), who had been on the run from the law, has been captured and is now under house arrest, where he is constantly tormented by his wife, Lucille Bluth (Jessica Walter). Michael's sister Lindsay (Portia de Rossi) continues to struggle with her marriage to the incredibly fey Tobias (David Cross). George Michael (Michael Cera), Michael's son remains uncomfortable with his romantic feelings towards his cousin, Maeby (Alia Shawkat), whom he kissed at the end of Season 2. Michael's older brother Gob (Will Arnett), a struggling magician, remains determined to be as lazy and insensitive as possible, while younger brother Buster (Tony Hale), still reeling from loosing his had to a "loose seal" last season, maintains his position as a mama's boy while avoiding returning to the Army.
There are some continuing stories in Season 3. Just as George claims that a group of British investors forced him into building homes in Iraq, Michael meets a mysterious Englishwoman named Rita (Charlize Theron). Michael is instantly attracted to Rita, but he should be more concerned about the shifty man (Dave Thomas) who follows them around "Wee Britain". Michael is forced to fire the family's lawyer, Barry Zuckerkorn (Henry Winkler) and hire a new lawyer, Bob Loblaw (Scott Baio), to whom Lindsay is instantly attracted. And every episode mentions the impending lawsuit against George -- which leads to George attempting to escape from house arrest while Michael attempts to find evidence to prove his father's innocence...or guilt, depending on what kind of mood that he's in.
By the time that
Arrested Development
reached its third season, it was clear that Fox had made some attempts to garner attention for the show, but America just wasn't ready to jump on the Bluth bandwagon. However, this doesn't diminish the fact that
Arrested Development
is one of the funniest shows in TV history and despite the fact that it had to bow out after halfway through its third season, this shouldn't tarnish the show's place in the annals of TV lore.
As with the first two seasons of
Arrested Development
, the jokes fly fast and furious in Season 3, and if anything, the show becomes even more sarcastic and risque as its death knell sounds. For those who haven't seen the show, it can be somewhat hard to describe the humor. There is slapstick, mostly involving Gob's inept magic, Tobias' clumsiness, and Buster's missing hand. The dialogue is full of double meanings and very quick jokes. (For example, Bob Loblaw sounds a lot like "blah, blah, blah".) Then, there are the frequent cultural references. Again, using Bob Loblaw as an example, Scott Baio replaced Henry Winkler as the Bluth's attorney, just as the two had shared the spotlight on
Happy Days
. The episode "S.O.B.'s" (which stands for "Save Our Bluths") brought a new level of comedy to the show, as it referenced the real-life dilemma of the series, as the family held a fundraiser for themselves and narrator Ron Howard referred to the fact that the Bluths had to make themselves more likable and accessible.
Despite the fact that
Arrested Development
was essentially a sinking ship, the cast continued to give it their all. I'm still surprised by how much I like Jason Bateman on this show as he continues to prove himself to be the ultimate straight man. The polar opposite of this is David Cross, whose crazy, go-for-broke approach results in many hilarious moments. My favorite character is still Gob and Will Arnett's approach to the material is hysterical, as he plays Gob as an insecure egomaniac. The most consistent cast member is young Michael Cera, who is either a great actor or is simply playing himself, but the stammering George Michael may be one of the most sincere characters ever see on TV.
It's still hard to believe that the Bluths won't be back for a fourth season. Yet, at least we have DVDs of
Arrested Development
so that we can re-live the laughs. And, of course, this will give those who didn't check out the show while it was on the air a chance to discover a fantastic series. But, I really wished that those of you with ratings boxes would have watched it when it was on.
Arrested Development: Season Three
comes to DVD courtesy of 20th Century Fox Home Entertainment. This two-disc set contains all 13 episodes from the show's third season. The episodes are all presented in their original HD broadcast format (16 x 9) and the widescreen image is letterboxed at 1.78:1. The episodes all look very good, as the picture is very sharp and clear. The image shows no grain or defects from the source material. Due to the documentary style of the show, the lighting and colors are kept very natural and everything looks fine here. I noted some mild video noise, but it wasn't distracting. The primary audio option on the DVDs is Dolby Surround. This track provides clear dialogue and sound effects. Stereo effects are noticeable and effective, but the surround sound is a little too subtle for my taste.
The
Arrested Development: Season Three
set contains a few impressive extras. The episodes "Forget Me Now" (Disc 1), "MR F" (Disc 1) and "Development Arrested" (Disc 2) all contain AUDIO COMMENTARIES featuring series creator Mitchell Hurwitz and stars Will Arnett, Jason Bateman, Michael Cera, David Cross, Tony Hale, Portia de Rossi, Alia Shawkat, and Jessica Walter. These commentaries are worth the price of the DVD alone as the speakers truly cut loose and have a great time talking about the show. (Hurwitz is quick to point out how the ABC show
Sons & Daughters
resembles
Arrested Development
). As Jeffrey Tambor is absent from the chat, they constantly talk about him and even call him at one point. By the time they reach "Development Arrested", things get totally wild and there were some comments made which had me belly-laughing. Disc 1 contains DELETED & EXTENDED SCENES from 5 episodes (totaling 6 minutes), while Disc 2 has scenes from 6 episodes (8 minutes). There are some lost nuggets here which easily fit the style of the show. Also on Disc 2 is the "Season 3 Blooper Reel" (7 minutes). Be careful, there are plenty of "F Bombs" here. Finally, we have the disappointing "The Last Day on Location" (8 minutes), which shows the cast & crew aboard the Queen Mary. Unfortunately, the bulk of this is simply on-set video, with only Jason Bateman providing any comments.










10 out of 10 Jackasses
blog comments powered by

Disqus
Search
Arrested Development: Season Three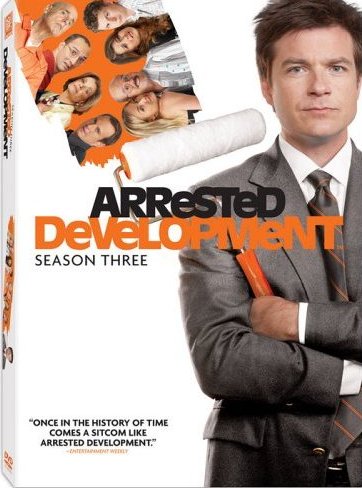 IMDB Link: Arrested Development: Season Three
DVD Relase Date: 2006-08-29
DVD Aspect Ratio: 1.78:1
DVD Extras: Audio Commentaries, Deleted Scenes, Gag Reel, Featurette
DVD Producer: 20th Century Fox Home Entertainment