Bend It Like Beckham review by Mike Long
In 2002, a movie entitled
My Big Fat Greek Wedding
was released and become a national sensation. When I finally saw the film, I hated it and it, once again, made me question the tastes of the general public. In 2003, another film which dealt with a unique culture,
Bend it Like Beckham
, opened, and while it didn't do as well as
My Big Fat Greek Wedding
, it garnered the same kind of reviews and audience response. So, it was with a great deal of trepidation that I approached
Bend it Like Beckham
. The film is certainly better than
My Big Fat Greek Wedding
, but that's not saying much.
Bend it Like Beckham tells the story of Jesminder "Jess" Bharma (Parminder Nagra), a young Indian woman who lives in a suburban British town with her parents, Mr. Bharma (Anupam Kher) and Mrs. Bharma (Shaheen Khan), and her sister, Pinky (Archie Panjabi). The family is focusing a great deal of attention on Pinky, as her wedding is approaching. Jess' parents assume that she is focusing on her studies, as she is waiting to hear if she's been accepted to university. But, Jess is obsessed with football (soccer to us Yanks), and is infatuated with football star David Beckham. She often plays football in the park with a group of male friends.
It's while playing in the park that Jess meets Jules (Keira Knightley), who is involved in an organized football team for women. Jules convinces Jess to meet the coach, Joe (Jonathan Rhys-Meyers), and learn more about the team. Of course, Jess is fascinated about the idea of playing for a team, and accepts Joe's offer to join, despite the fact that she knows her strict parents would disapprove. So, Jess must now not only hide her newfound football team from her family, but the fact that she's now friends with a Caucasian girl and that she may have feelings for Joe.
The most shocking thing about Bend it Like Beckham is just how woefully mediocre the film is, and how it never delivers on any of its promises. The main plot, in which Jess hides her dream from her strict parents, is incredibly hackneyed, and one could go on and on naming the other films in which weve seen this idea. To make matters worse, Jess parents catch her playing football at least 3 times in the film, but the movie just keeps going. So, any suspense about her getting caught dies about halfway through the film. The films saving grace should have been the unique aspect of telling the story from an Indian viewpoint, but we learn very little about the Indian culture, save for the facts that the parents are traditional, the women are expected to cook, and that weddings are a big affair. And...? No, the film isnt mean to be a tutorial on Indian culture, but Jess family could have been Baptists or Amish, and the film would have basically been the same.
Bend it Like Beckhams biggest sin comes in the editing department. The film is 112 minutes long, but weve only got about 90 minutes worth of story here. So, every few minutes, there is another musical montage in which we get to see Jess kicking a soccer ball. Woo! Ive often heard about the Bollywood musicals from India, but I didnt think Bend it Like Beckham was going to be one. Co-writer/director Gurinder Chadha clearly didnt have a great deal of confidence in the (admittedly weak) material, so the film is filled with these musical vignettes which do next to nothing to advance the story. The only saving grace in the movie is the cast. All of the actors are very good, and its clear that Nagra and Knightley trained very hard for the movie. Unfortunately, Bend it Like Beckham is a poorly-paced and unoriginal film that wastes what could have been an interesting idea.
Bend it Like Beckham rolls onto DVD courtesy of 20th Century Fox Home Entertainment. The film is being released on two separate DVDs -- a full-screen version and a widescreen version. For this review, the widescreen version was screened. The film has been letterboxed at 1.85:1 and the transfer is enhanced for 16 x 9 TVs. The image suffers from some minor problems. There is a noticeable sheen of grain on the picture throughout the film. The picture fluctuates from being overly bright to being too dark. There is some obvious artifacting at times, and the subtle halos suggest edge enhancement. The DVDs Dolby Digital 5.1 audio track has some issues as well. For the most part, the dialogue is clear and audible. But, the dynamic range on the track is off, and the music (which dominates the movie) is much, much louder than the dialogue. There are very few overt surround sound and stereo effects, save for the music.
The DVD contains a few, arguably odd, special features. We start with an audio commentary featuring co-writer/director Gurinder Chadha and co-writer Paul Mayeda Berges. This is a quaint chat, as these two friends have a good time discussing the movie. Not surprisingly, Chadha reveals that she builds films around songs. We next have the 15-minute segment Who Wants to Cook Aloo Gobi?, in which Chadha, along with her mother, cooks this Indian dish. Its like having a cooking show right on the DVD! Next up is a 15-minute making-of featurette, which contains the standard behind-the-scenes footage and interviews with the cast and crew. There are 10 deleted scenes on the DVD, which may be viewed individually, or one may choose the play all option. A music video for a cover of David Johansens Hot, Hot, Hot is included here, made up mostly of clips from the film. (Keep watching it until the end for a surprise cameo.) Finally, we have two trailers and a text-only recipe for Aloo Gobi.







4 out of 10 Jackasses
blog comments powered by

Disqus
Search
Bend It Like Beckham

IMDB Link: Bend It Like Beckham
DVD Aspect Ratio: 1.85:1
DVD Extras: Audio commentary, Deleted scenes, Featurettes, Trailers, Music video
DVD Producer: 20th Century Fox Home Entertainment

Related Reviews
---
---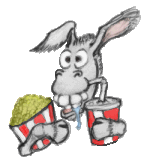 ---

---
Interested in writing for Jackass Critics?
E-mail Matt