Agent Cody Banks review by Mike Long
Over the past few years, Mike Myers has made a ton of money spoofing the James Bond films. So, MGM decided that they would do their own take-off on their in-house franchise and aim said film at a teenaged audience. The result was
Agent Cody Banks
, which stars Frankie Muniz as the title character. Cody is a middle-school student from Seattle who appears to be the average American kid...except for the fact that he's a highly-trained CIA operative. (A fact that he's managed to keep hidden from his family.) Cody's first big assignment comes when he's asked to get close to Natalie Connors (Hilary Duff), who's father, Dr. Connors (Martin Donovan) has been working for Brinkman, an international criminal. Cody's mission is to simply become friends with Natalie and learn more about her father's work. There's just one problem: despite all of Cody's special training and neat gadgetry, he doesn't know how to talk to girls. When Brinkman puts forth his plan for world domination, it's up to Cody to overcome his shyness and save the day.
It would be very easy to accuse MGM of shamelessly attempting to aim a James Bond-like film at a younger audience, for that's exactly what they are doing. His lack of sophistication with the ladies aside, many of Cody's behaviors have a Bond-like quality and Brinkman (and his hideout) could've come directly from any Bond film. Yet, it's hard to knock Agent Cody Banks, as the film accomplishes exactly what it sets out to do, which is to be the ultimate adolescent male fantasy. Cody gets to drive cool cars, fight supervillains, be yelled at by Angie Harmon, who plays his mentor, and he gets to cuddle with Hilary Duff (who's acting here is even worse than in The Lizzie McGuire Movie). There isn't a second of the film which can be taken seriously, and most adults will probably find Agent Cody Banks insulting, but if you're a 12-year old boy, or if you have the ability to suspend your disbelief for 90-minutes, the movie is fun.
MGM Home Entertainment brings Agent Cody Banks to DVD. The disc contains both the widescreen and full-frame versions of the film. (For the purposes of this review, only the widescreen version was screened.) The DVD features an anamorphic widescreen transfer, which has been letterboxed at 2.35:1. For the most part, the image looks pretty good, but it does show some flaws at times. At the :39 mark, the picture is very grainy, and the opening of chapter 5 is very muddy. Otherwise, the picture looks fine, despite some occasional artifacting and pixellating. The colors are fine throughout though. The primary audio track on the disc is a Dolby Digital 5.1 mix. The action scenes sound fantastic here, offering nice bass response and surround sound effects. But the rest of the film sounds quite drab, although the dialogue is always sharp and clear.
For a movie aimed at "tweens", this DVD is overflowing with extras. Unfortunately, most of them aren't that good. The disc features 9 short featurettes which could have easily been edited together into one long segment. To be honest, these sections do offer some great behind-the-scenes info on Agent Cody Banks, but going back to the special features menu gets quite old. The disc features an audio commentary with director Harald Zwart, and stars Frankie Muniz and Angie Harmon. This is a pretty good track, as this trio shares anecdotes about the making of the film, and share many humorous stories. The disc also features more standard fare such as deleted scenes, outtakes, still galleries, and the theatrical trailer. There is also a teaser trailer for Agent Cody Banks 2, as MGM is attempting to start yet another franchise.









6 out of 10 Jackasses
blog comments powered by

Disqus
Search
Agent Cody Banks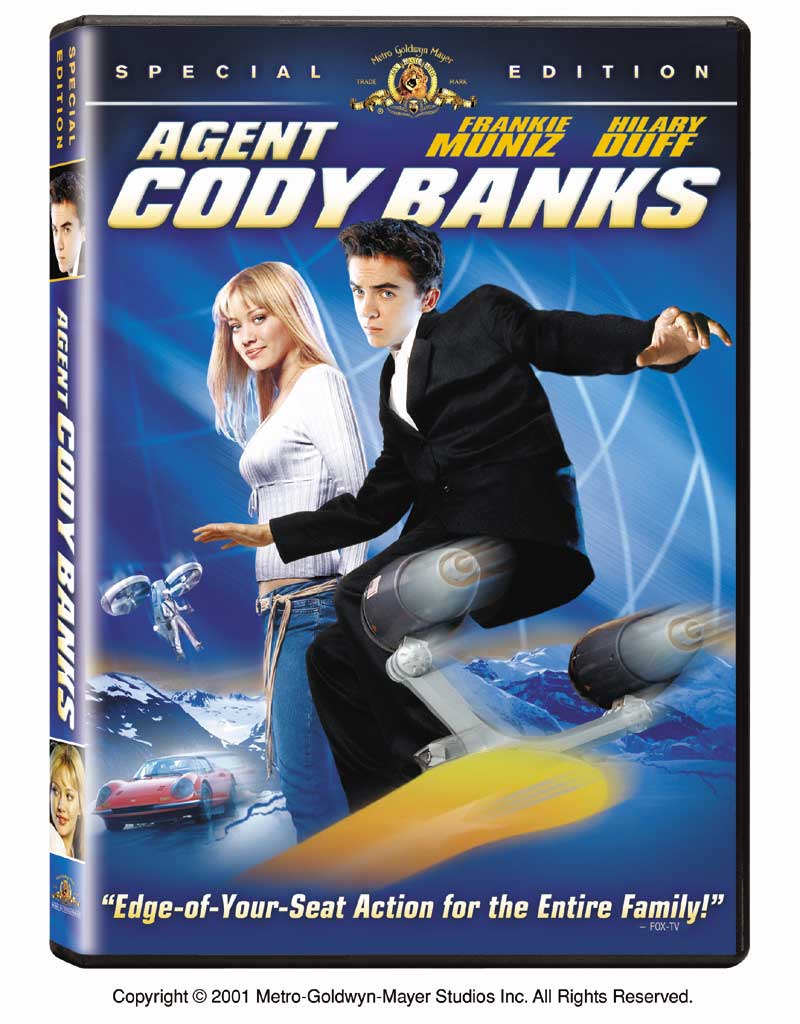 IMDB Link: Agent Cody Banks
DVD Aspect Ratio: 2.35:1; 1.33:1
DVD Extras: Audio Commentary, Featurettes, Deleted Scenes, Trailers, Still Gallery, etc.
DVD Producer: MGM Home Entertainment